The 38th Annual North Carolina Holiday Flotilla will take place at Wrightsville Beach. The event has activities for the whole family and attracts approximately 50,000 visitors. The boat parade, which is the highlight of the Flotilla festival, showcases power yachts, sailboats, and other watercraft decorated with lights and holiday decor.
Schedule or Events
November 25th
Captain's meeting at 6:30 pm at King Neptune Restaurant, located at 11 N Lumina Ave, Wrightsville Beach, NC 28480.
November 26
Day in the Park – 10:00 AM to 4:00 PM at Wrightsville Beach Park, located at 321 Causeway Dr, Wrightsville Beach, NC 28480. The event will feature:
Food Vendors
Arts and Crafts Vendors
Car Show – Registration is 10:00-11:30 AM, judging begins at 12:00 noon, and the awards presentation is scheduled for 2:00 PM
5:00 PM – Sponsor tent opens – location to be determined
6:00 PM – The Boat parade begins
Fireworks – Following the boat parade
November 27th
Captain's breakfast at 10:00 AM at King Neptune to announce boat parade winners.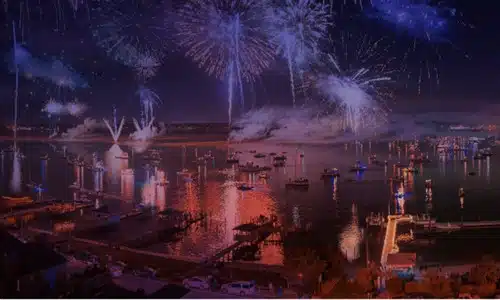 For more details on the 2022 Wilmington Riverfest please visit their website (https://www.ncholidayflotilla.org/)
The C.W. Worth House Bed & Breakfast is located in the Historic District of Wilmington and is approximately a 20-minute drive from the festival activities.
About the C.W. Worth House
The C.W. Worth House Bed and Breakfast is a circa 1893 Victorian home with 7 guest rooms, each with a private bath. The home features modern accommodations that blend beautifully with its historic charm. You will awake each morning to freshly brewed coffee and a full breakfast served in the dining room. In the evenings, enjoy a glass of wine and listen to jazz softly playing in the background as you relax in our pub-style gathering room. It is an easy walk to the riverfront for fine dining, shopping, tours, and nightlife. The beautiful beaches are a short drive away. We invite you to stay at C.W. Worth House where our motto is "Welcome Home." Please view our accommodations.